Hurricane Harvey ripped through Texas last week, leaving a path of destruction and heartache that will go down in history for our great state. I've had the privilege of partnering with my church and capturing images of our community rallying together in the most amazing ways.
I'm proud to be a Texan. I'm proud to be a Houstonian.
These first two images were shot inside one of the hardest hit neighborhoods in Houston. Over a foot of water made its way into these homes.
This particular house was the home of an elderly couple whose son-in-law waded through chest high water to rescue his in-laws. A helicopter rescue was arranged for their neighbors while a gentleman with a kayak rescued the couple from their drowning home.
Four days it took to clean out their home. Dozens of people, strangers even, worked together ripping down drywall and removing destroyed belongings to the curb for trash pickup that can't come too soon.
This was the same with every single home we drove past- piles and piles of now-trash lined the streets. But there was no lack of help, as folks were hauling items out of homes constantly, eager to help the people of their city.
The elderly couple's son-in-law takes a break, smoking a cigarette near the trash heap. He was exhausted but thankful for all the relief efforts that were there helping his in-laws.
One of the guys in our work crew, removing wet drywall and insulation from a gentlemen's townhome in Houston. This area also saw record-breaking flood waters, leaving the entire townhome complex saturated.
You can see in the image below by looking at the insulation just how high the water traveled into these homes.
Relief efforts aren't just for adults. Julie Foy and two of her kids drove for hours while our work crews cleaned homes, delivering hot meals to all the residents.
Sometimes it's hard to find ways to serve when our kids are little, especially when the environment is unsafe, like in this situation. But that didn't stop her from loading her sweet littles in her car and serving these beautiful people in need.
One sweet lady in the townhome complex scattered her beloved books along the walkway of her home to dry. This image broke my heart. As a fellow book lover, I sympathized with her need to salvage as many of her things as possible.
More of our work crew removing soaking wet insulation and drywall from a townhome. The owner was such a sweet soul and oozed gratitude and kindness. She also made some amazing coffee for the crew while they worked.
You could find her on the back porch disinfecting some of her belongings that the work crew removed from the home. Her smile, y'all, her hugs- they were remarkable.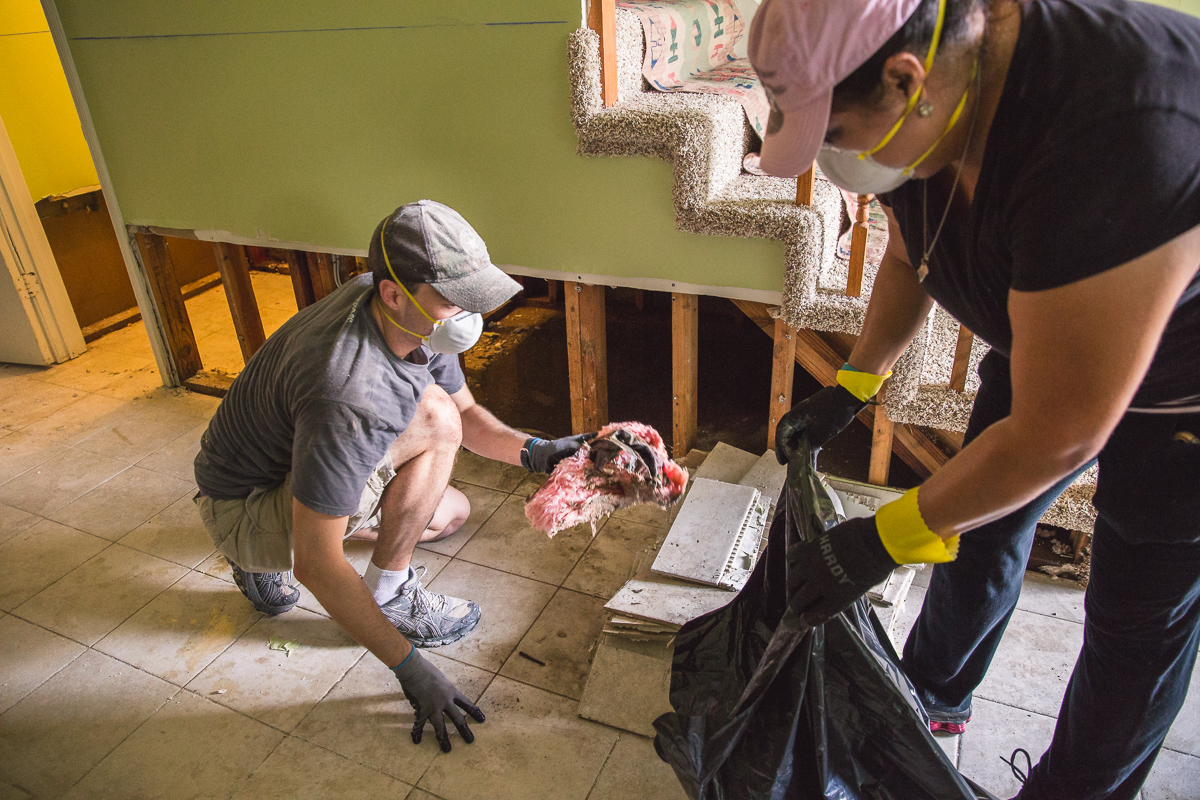 My little helpers. They usually aren't with me when I'm shooting but sometimes that's the only way I can do what I do.
We delivered these bags of nonperishable food for the people able to stay in their homes. Many of them, though, are sleeping in hotels or temporarily living with family.
With water still flooding the streets, this Katy neighborhood is just now starting its cleanup efforts. Many streets are still impassible, with water well into the front yards and lapping at the front doors.
Another area in Richmond, within walking distance of the Brazos River, saw well over four feet of flood water, some of it still stands in the streets and houses closest to the river.
That Dead-End sign couldn't be more real.
Look at the water line on that house. Incredible.
Our church was contacted by the owner of this house, asking for help to clean out her beloved home.
I could tell from the moment I stepped foot into the house that this was once a home-sweet-home. Potted flowers lined the window seal and the breakfast nook was adorable.
Now it stands in ruin. Sewage and the smell of cow pasture mixed together in the air creating a noxious odor. Mud permeated everything: the floors, carpets, walls, cabinets; it's all soaked.
Our work crew made makeshift protection outfits using black trash bags and went to work, their hearts breaking for the owner and all she'd lost.
No one knows how long the cleanup effort will take here in Houston. No one knows quite yet excatly how many homes were damaged due to Harvey.
What we do know, though, is that the people of Houston are strong, courageous and kind. I never knew just how amazing my community was until now.
If you're reading this and want to find real, tangible ways to help, please visit our relief page at Crossbridge.cc/harvey to team up with some of the best people I know. We'd love to have you.